NJ Beach Links
New Jersey has 127 miles of coastline along the Atlantic Ocean. In addition, New Jersey has beautiful bay fronts, beaches, and wetland habitats along the New York/New Jersey Harbor, Raritan Bay, Delaware Bay, and inter-coastal waters from Barnegat Bay to Cape May Point. New Jersey is home to some of the most beautiful and popular beaches in the world. Tourism spending at the Jersey shore generated during summer months is vital to New Jersey's economy. Below please find some popular links to beach and tourism web sites that may enhance your enjoyment of New Jersey beaches:
General Beach Information
Public Access
Boating and Fishing Information
Ecological Information
Other Resources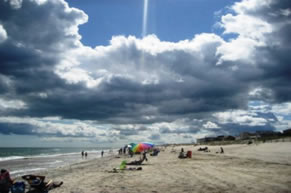 Storm Tracking Information
Keep track of storm activity with links to the National Weather Service: www.nws.noaa.gov; and the National Hurricane Center: www.nhc.noaa.gov.
Water Levels, Tides, and Currents
Access information regarding water levels, tides, currents and predictions via the National Oceanic and Atmospheric Administration, National Ocean Service, Center for Operational Oceanographic Products and Services website: http://tidesandcurrents.noaa.gov/.
Meteorological and Oceanographic Data
Access extensive real time and historical meteorological and oceanographic data from the National Data Buoy Service: www.ndbc.noaa.gov.