Health Risk Information
Samples that are above the water quality standard indicate water that presents an increased risk of illness. Swimming in or contact with polluted water can cause gastrointestinal symptoms such as nausea, vomiting, diarrhea, and abdominal pain, respiratory symptoms like sore throat, cough, runny nose, and sneezing, eye and ear symptoms including irritation, earache, and itchiness, dermatological symptoms like skin rash and itching, and flu-like symptoms such as fever and chills. These symptoms are minor most of the time, but can occasionally be more serious, especially in sensitive populations, such as in children and elderly. People should also not swim with open sores, and see a doctor if a cut does become infected after water exposure. Report any of these illnesses to your local Health Department.
Safety Tips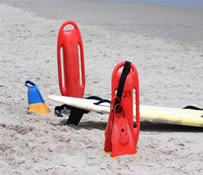 Swim near a lifeguard.
Never swim alone.
If you are caught in a rip current, remember to swim parallel to the shore.
Avoid sandbars, drop-off areas, or fast currents.
Be aware of your surroundings.
Protect yourself from the sun.
Beach Wash-Ups
New Jersey Division of Criminal Justice Environmental Crimes (EC) detectives have been investigating material washing up on the shoreline since 1987. The vast majority of items identified as medical waste are, in fact, not medical in nature or use. Click on the link below to view photographs of items that have been misidentified as medical waste.
Please note that this guide is intended for public officials. Beachgoers should notify a lifeguard, beach manager, or local public official (e.g., police or health department) of any suspicious items washed up on the beach. Medical waste or other beach hazards should be reported to the DEP hotline at 1-877-WARN DEP or the Environmental Crimes Hotline at 609-571-5798.
For infomation on Superstorm Sandy waterway debris removal efforts, please visit http://www.nj.gov/dep/special/hurricane-sandy/wwdebris.htm, and view the fact sheet

.
Beach Nourishment and Sand Replacement
As part of New Jersey's removal of debris deposited by Superstorm Sandy, including sand that washed into the bays along the Atlantic Coast, the Department of Environmental Protection (DEP) is assessing and evaluating displaced sand for replenishment of impacted ocean-side beaches. Click here

for information on beach sand replacement projects from DEP's Office of Dredging and Sediment Technology. Additional information on beach nourishment, including sand quality and characterization, being conducted by the US Army Corps of Engineers and DEP's NJ Geological and Water Survey and Bureau of Coastal Engineering can be found by clicking here

. The location of sand resource areas in state and federal waters can be found here

Stormwater and Storm Drains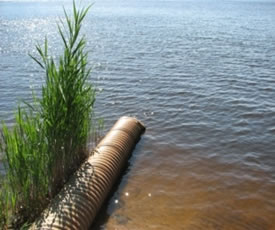 Every time it rains, water flows across the landscape, over lawns, parking lots, and streets. This type of water is known as stormwater runoff. It travels along gutters, into catchment basins and through storm drain pipes and ditches, usually it is not treated, then flows into local waterbodies. Along the way, the stormwater picks up trash, (fast-food wrappers, cigarette butts, styrofoam cups, etc.) toxins, and other pollutants (gas, motor oil, antifreeze, fertilizers, pesticides and pet droppings). This stormwater can kill fish and other wildlife, destroy wildlife habitat, pollute drinking water sources, and force the closing of beaches because of health threats to swimmers. It is important to understand that even though policies are in place to help control stormwater and storm drain discharge, it can still be a potential risk to human health. Click here for additional information from NJDEP's Clean Water program.